Moving across multiple destinations during your Japan trip?
It is common to see tourists taking their luggage around in Japan with them on inter-city trips. This is made possible with an efficient transport system and also ample space to store luggage on trains that frequent tourist spots. It's all good until you encounter the less than desirable challenges of navigating crowded places, arriving at a train station exit with no elevator or escalator, dragging their luggage on muddy streets in rainy weather, or realizing that all coin lockers at their destination are full. You've likely experienced one of these situations at least once in your life, and you probably wish you sent your luggage to your hotel in advance. Read on to get an idea of what your options are when it comes to doing so in Japan!
Where can I send my luggage from?
The beauty of traveling in a country that values convenience is that drop-off extends beyond luggage counters at the airport to the streets of Tokyo! That's right, you could drop your luggage off at delivery service centers, shopping malls, supermarkets, select convenience stores, and basically just any shop that has the 宅配便 (takuhaibin) or 宅急便 (takkyubin) sign. Both terms mean "fast delivery at home". This is helpful to know as not all hotels you stay at may have a luggage delivery option.
We do at Section L! Just approach our friendly front desk if you need help with sending or receiving luggage. If you're planning to send luggage to us, please contact us in advance as soon as you can as we have limited space and do want to ensure we have a spot to keep your stuff!

What delivery services are available?
Two major companies dominate the delivery scene in Japan with a certain degree of English support. Most notably, Yamato Transport with its signature kuroneko (black cat) logo, and then its main competitor, Sagawa Transport.
How do I send my luggage?
It's really easy! Bring your luggage to each spot that offers takuhaibin/takkyubin service, you'll be given a delivery slip to write your name and address of the destination, which will be attached to your luggage. You'll have a copy to keep. Inform your next destination about your incoming luggage, and present the slip (if needed) to claim it. That's it!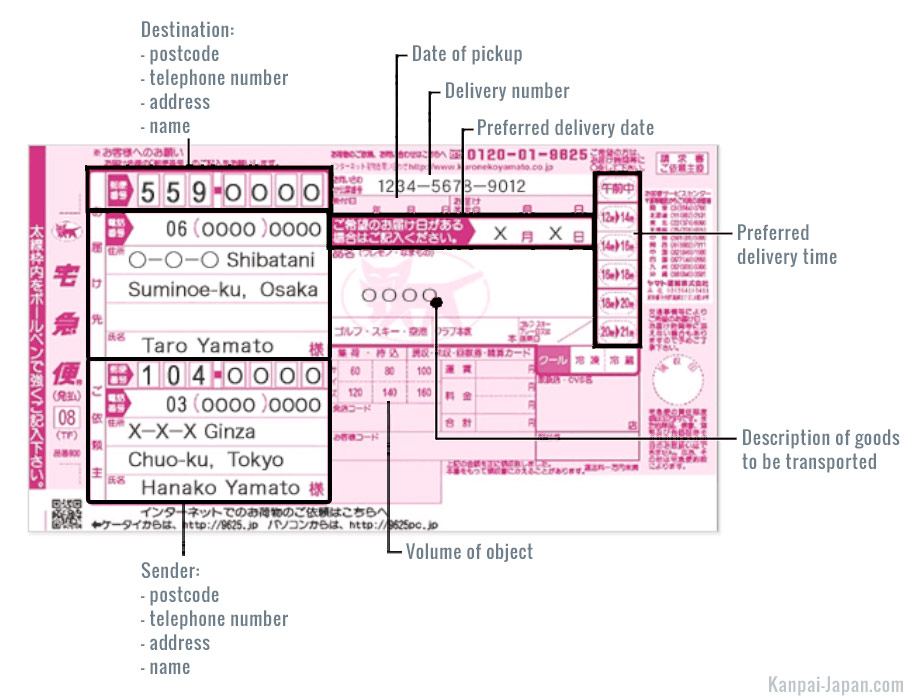 If you need help filling in the forms, just ask the delivery service staff or hotel staff. Often, they will happily help and save you the trouble of writing convoluted kanji characters.
What are the delivery times and costs?
In general, fees range from 1600-4000 yen per luggage piece. It's a reasonable price to pay for the freedom to have more hands to carry back souvenirs! The maximum weight limit is 30kg per piece.
You can also calculate more accurate rates based on your luggage dimensions here:
Yamato Transport Calculator for Inter-City Deliveries – Scroll down the page to Check Rates.
Yamato Transport Calculator for Delivery to Airports
Sagawa Transport Rates (including same-day deliveries)
Happy hands-free traveling!
---
Information accurate as of March 2023.
Cover Photo: Bobby Hendry